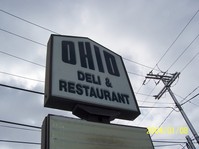 Last Summer I visited the Ohio Deli with a couple of pals and we tried the Dagwood sandwich. Despite narrowly escaping the clutches of a 4 year old pitbull we got our food and ate in safety. I give it a 8.5/10 on the foodie scale. The fries were crispy and the sandwich was super duper.
This past weekend I took a trip to Dewey's Pizza in Grandview Heights, Ohio. I enjoyed the Dr Dre pizza which is a spicy surprise of a pizza which included chicken, tomatoes, bacon, and jalapeno peppers to make it hot and hit the spot. I
thoroughly enjoyed my slice of paradise as I washed it down with an ice cold Dr Pepper, a co-worker of Dr Dre.